Your gift makes a difference. When you give a Tower Club gift each year, you join an important group of Cornellians dedicated to providing substantial, steady support for all of Cornell. Thank you for being part of this powerful and generous community.
Tower Club
The Tower Club recognition society distinguishes Cornell's philanthropic leaders whose annual support strengthens and uplifts the university's mission now and into the future. The generosity of this dedicated group invigorates world-class programs and curriculums, and drives the impact of Cornell across the globe.
Tower Club donors are invited to experience exclusive programs and university updates that often include opportunities to personally interact with Cornell leadership, faculty, staff and students. Tower Club supporters are also offered personal assistance regarding Cornell inquiries and philanthropic matters.
If you have questions or would like additional information about the Tower Club, please contact towerclub@cornell.edu or call (607) 255-2779.
Tower Club: Recognition Circles
The Tower Club consists of four recognition circles. When you make annual gifts totaling $10,000* or more, to any area of Cornell, you may be recognized in one of these circles. Each circle celebrates donors in a distinctive way.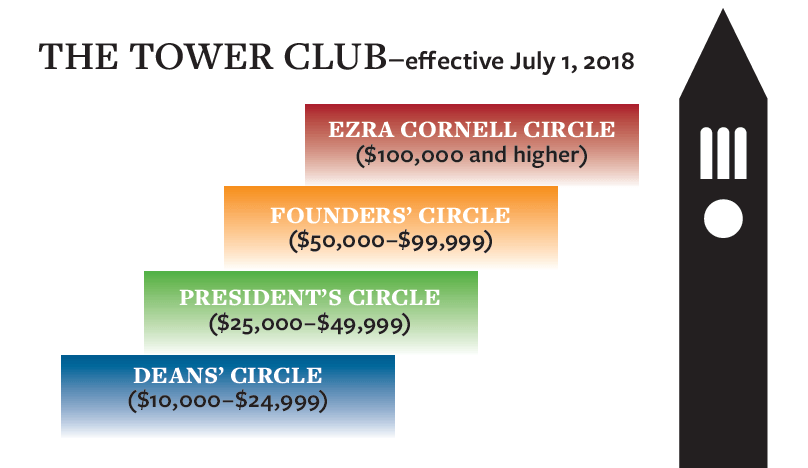 *Recent alumni may be recognized at the Tower Club: Deans' Circle level for gifts under $10,000, based on their current year post-graduation as follows:
In years 1-4 with annual support of $1,000 or more
In years 5-9 with annual support of $2,500 or more
In years 10-14 with annual support of $5,000 or more.
*Alumni of classes 1968 and earlier may also be recognized at the Tower Club: Deans' Circle level for gifts of $5,000 or more.
Tower Club: Honor Roll
Cornell takes great pride in this distinguished community of leadership supporters and is pleased to acknowledge each individual who made a Tower Club commitment in fiscal year 2022 on the following honor roll (PDF, 1,112 KB).
*When viewing the PDF please note that you may need to scroll down or use the search feature by pressing Control/Command + F to find your name.
Please email towerclub@cornell.edu with any comments or edits regarding this list.
Cornell's fiscal year runs July 1 through June 30.