Berger International Speaker Series
The Berger International Speaker Series hosts lectures on topics relating to international and comparative law by distinguished scholars and practitioners from around the world.
Speakers for the Fall 2021 Semester
Refugee Resettlement and Immigration Solutions after the U.S. Withdrawal from Afghanistan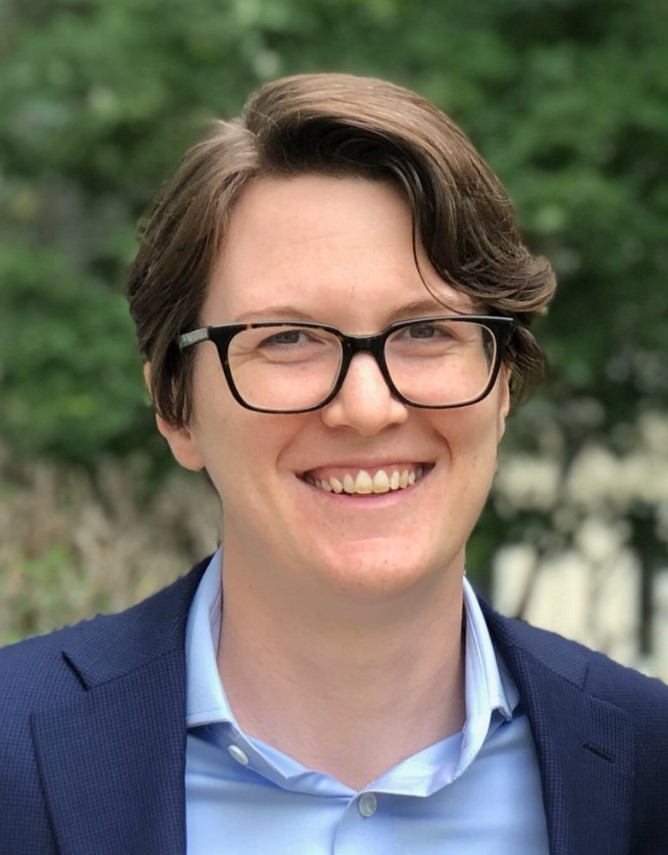 Please join us on Tuesday, September 28, 2021 from 12:15 p.m. to 1:15 p.m. for a virtual Zoom conversation with Betsy Fisher, Director of Strategy for the International Refugee Assistance Project.
The talk, entitled "Refugee Resettlement and Immigration Solutions after the U.S. Withdrawal from Afghanistan", will be moderated by Professor Jaclyn Kelley-Widmer.
Please register for the event at the following link: https://cornell.zoom.us/webinar/register/WN_dxaGG1BvS3eEQUGAjUBD9Q
About the talk:
Afghan refugees have long comprised the largest or second-largest group of refugees in the world, and the number of Afghans seeking safety outside Afghanistan increased dramatically even before the U.S. government's chaotic withdrawal from Afghanistan.

Betsy Fisher, Director of Strategy at International Refugee Assistance Project (IRAP), will discuss why U.S. immigration programs and international refugee protection systems failed to achieve their goals, and policy solutions to improve them.
About our featured guest:
Betsy Fisher is the Director of Strategy at the International Refugee Assistance Project (IRAP). She coordinates IRAP's efforts to screen potential clients, represent refugees in UNHCR proceedings, and provide self-help materials to refugees and displaced people. She previously served as IRAP's policy director, Jordan staff attorney and intake coordinator based in Amman, Jordan. Betsy has published op-eds and academic articles about statelessness and refugee resettlement in publications like the New York Times and the Michigan Law Review.
Betsy is a graduate of the University of Michigan Law School, the Center for Middle Eastern and North African Studies at the University of Michigan Rackham Graduate School, and Denison University.
Speakers for the Spring 2021 Semester
International Law and Peacemaking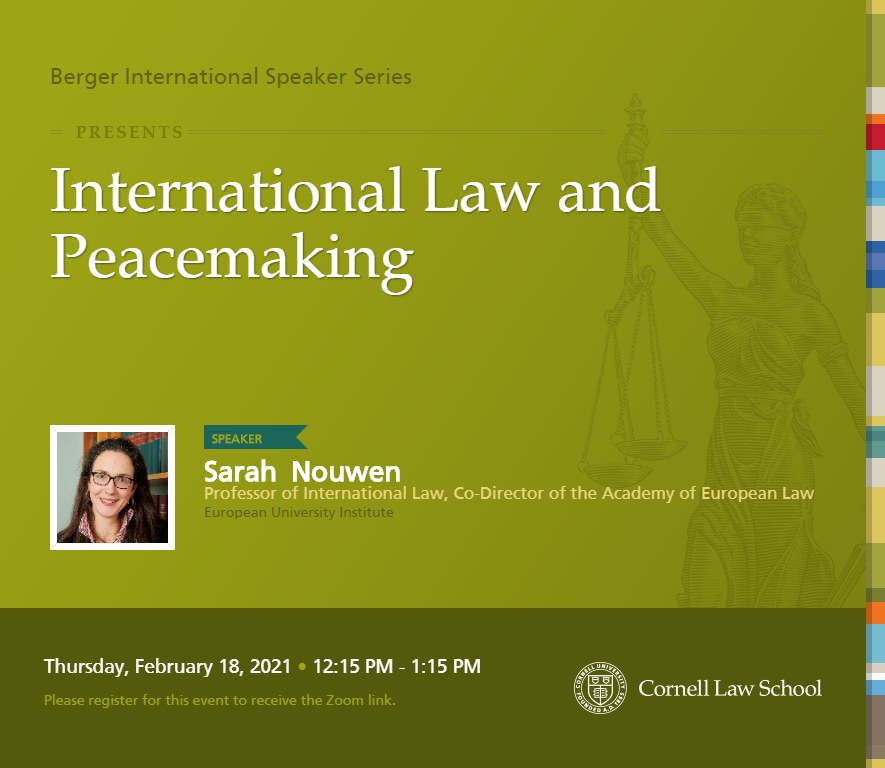 Speaker: Sarah Nouwen
Date and Time: February 18, 2021 12:15 PM – 1:15 PM
Sarah Nouwen is a Professor of International Law at the European University Institute in Florence, where she is also a Co-Director of the Academy of European Law. She is on leave from the University of Cambridge, where she served for several years as Co-Deputy Director of the Lauterpacht Centre for International Law, and from Pembroke College. She is currently an Editor-in- Chief of the European Journal of International Law.
Her research interests lie on the intersections of law and politics, war and peace and justice and the rule of law. Building on her experience in diplomacy and peace negotiations, her research focuses on how international law plays out in concrete situations. It combines doctrinal analysis and theory with empirical research and draws on law, politics, and anthropology.
Prior to joining the Cambridge Law Faculty, Sarah worked for the Netherlands Ministry of Foreign Affairs in New York, The Hague and Khartoum. In 2010-2011 she served as Senior Legal Advisor to the African Union High-Level Implementation Panel in Sudan, consisting of three former Presidents who played a key role in the negotiations on an independent South Sudan and in seeking resolutions for the conflict in Darfur.
She holds an LLB and LLM (Utrecht University, with specialisations done in at the University of Cape Town and the University of the Western Cape), an MPhil in International Relations (Cantab) and a PhD in Law (Cantab) and is the author of the CUP monograph Complementarity in the Line of Fire: The Catalysing Effect of the International Criminal Court in Uganda and Sudan. Her article `"As You Set out for Ithaka": Practical, Epistemological, Ethical, and Existential Questions about Socio-Legal Empirical Research in Conflict' was awarded with the Leiden Journal of International Law Prize.
International Refugee Norms and Their Implementation in the United States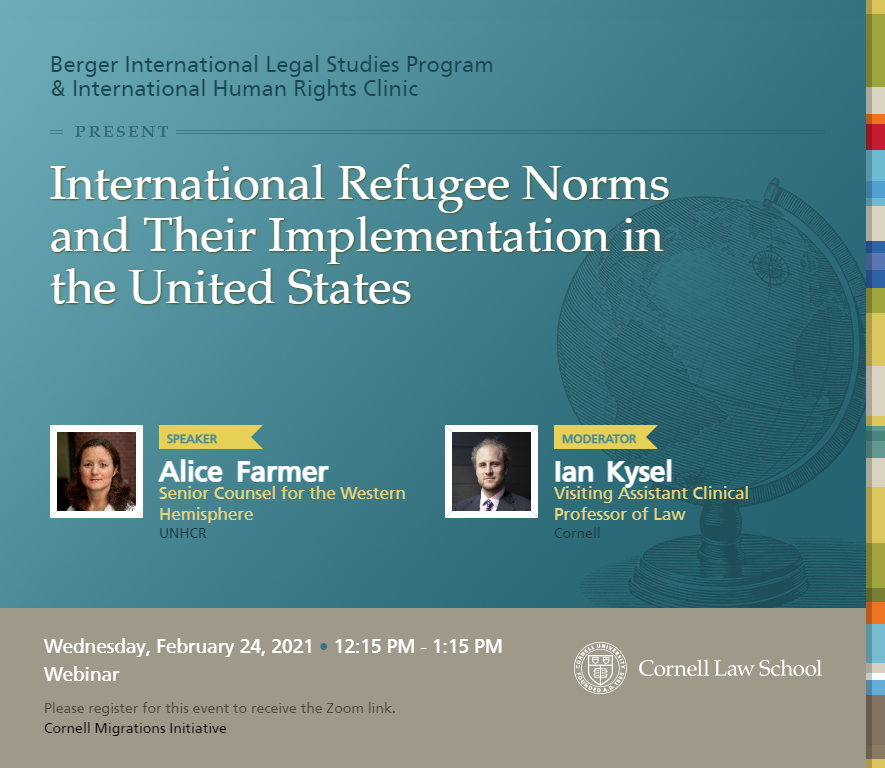 Speaker: Alice Farmer
Watch a video recording of this Webinar here (no login required), or view at Cornell Video on Demand here (login required)!
Date and time: Wednesday, February 24, 2021 at 12:15pm to 1:15pm
Alice Farmer is the Legal Officer for UNHCR's Washington D.C. office. The office serves as a resource to policymakers in drafting and implementing refugee protection measures; monitors U.S. compliance with international standards; and assists asylum-seekers and their representatives in presenting claims. Ms. Farmer oversees strategic litigation and judicial engagement, directs programming on children in the U.S., and works to ensure due process and access to counsel for asylum-seekers. Previously, Ms. Farmer served as the protection officer in the Washington office.
Prior to joining the Washington office, Ms. Farmer worked on refugee and human rights issues in various capacities for Human Rights Watch, the American Civil Liberties Union, and the Norwegian Refugee Council, as well as in other offices of UNHCR. Ms. Farmer has researched and published on the human rights of children in displacement in more than twelve countries. Ms. Farmer, in her capacity at Human Rights Watch, created and led the organization's global campaign against immigration detention of children.
Ms. Farmer started her legal career with the U.S. Department of Justice Honors Program, in the Executive Office for Immigration Review. She has lectured on human rights at Harvard Law School, Georgetown University Law Center, and the Institut d'études politiques de Paris (Sciences Po), and published with Oxford's Forced Migration Review, the Georgetown Immigration Law Journal, the Yale Human Rights and Development Law Journal, among others. Ms. Farmer holds a J.D. from New York University School of Law, a master's degree in public administration from Harvard's Kennedy School, and a bachelor's degree from Harvard College.
Using the Jury to Spread Democratic Reform in Argentina and Beyond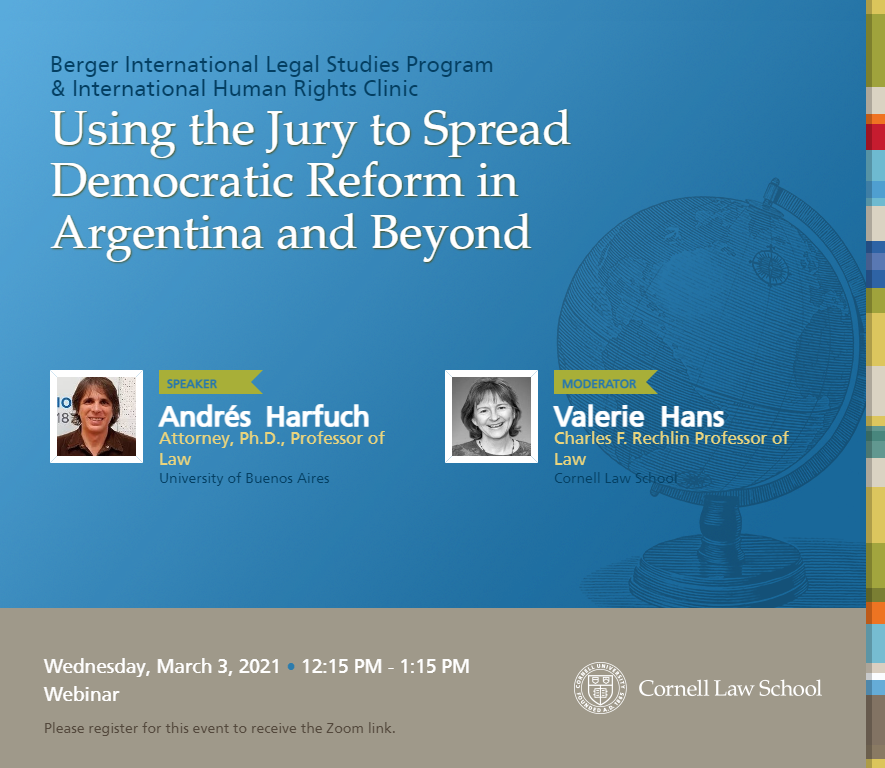 Speaker: Andrés Harfuch, University of Buenos Aires
Moderator: Valerie Hans
Watch a video recording of this Webinar here (no login required), or view at Cornell Video on Demand here (login required)!
Andrés Harfuch is a public defender and Associate Professor of Law at the University of Buenos Aires, where he regularly teaches the next generation of Argentine lawyers about trial litigation. He is also a Member of the Board of Directors of INECIP, the Institute for Comparative Studies in Political and Social Sciences, in Buenos Aires, and Vice-president of the Argentine Association for Trial by Jury (AAJJ). Andrés leads a group of remarkably successful activists in Argentina dedicated to the improvement of the justice system. One impressive success has the promulgation of trial by jury in criminal cases in six provinces in Argentina, and most recently trial by jury in civil cases in Chaco. He has written many books and articles about criminal procedure and jury trial procedure that are widely consulted by judges and lawyers in Argentina. He was a Visiting Scholar at Cornell Law School in 2014.
Reproductive Justice, Human Rights and Transformative Constitutionalism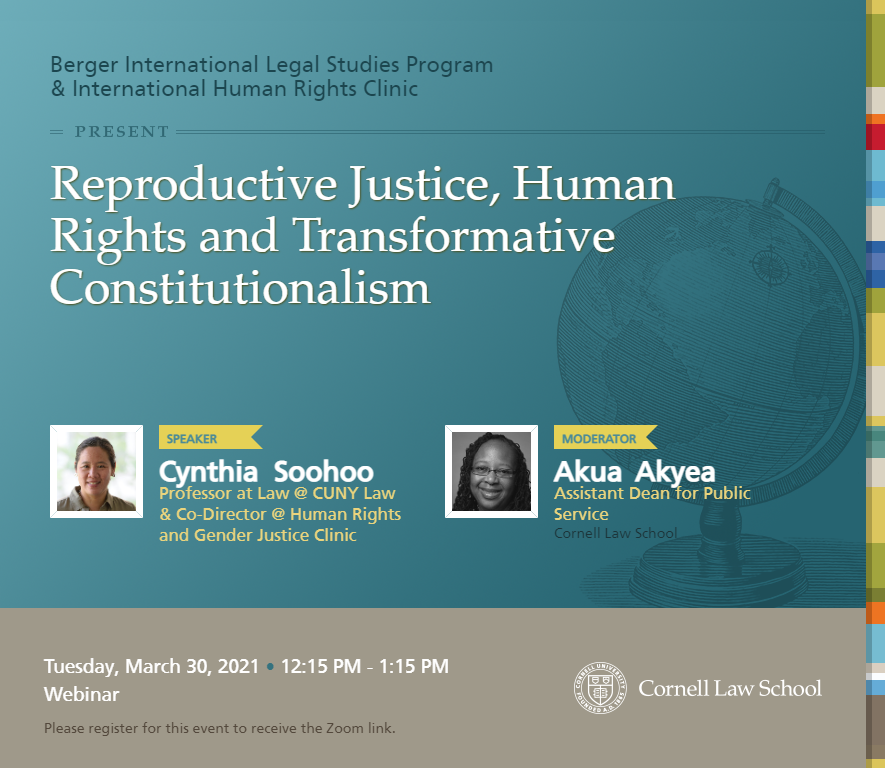 Sign up for the Webinar here: https://cornell.zoom.us/webinar/register/WN_lwSZxXrJRWuv_QNybSM6fw
Speaker: Cynthia Soohoo
Moderator: Akua Akyea

Around the world, people have fought for control over their bodies and the ability to make reproductive and parenting choices, free from external control and coercion. Reproductive oppression violates basic human rights to make decisions about one's body, life, and future and, if one chooses, to have, parent, and nurture children. Historically, reproductive oppression has taken many forms including forced sterilization and criminalization of contraceptive use and abortion, but at bottom, it involves the instrumentalization of a person's reproductive capacity to serve the goals of others.

The reproductive justice movement, founded by Black women in the United States in the 1990s, provides an important framework to understand how and why reproductive oppression has impacted different communities and the ways in which U.S. law has failed to recognize and remedy the harm. The lecture will consider different forms of reproductive oppression and theorize alternative legal approaches drawing on human rights and comparative law.
Cynthia Soohoo is a Professor at Law at CUNY Law and Co-Director of the Human Rights and Gender Justice Clinic. Professor Soohoo is an author and frequent commentator on women's human rights, the rights of youth in detention, and human rights advocacy in the United States. She has authored submissions to the U.S. Supreme Court, appellate courts and international forums on access to abortion, forced sterilization and criminalization of reproductive choices. She co-edited BRINGING HUMAN RIGHTS HOME, a three-volume book on human rights in the United States, which received the 2008 Gustavus Myers Outstanding Book Award. She is a co-editor of the Reproductive Rights Professor Blog and frequent contributor to the Bringing Human Rights Home Law Professor Blog. From 2008-2011, Professor Soohoo was the Director of the U.S. Legal Program at the Center for Reproductive Rights. From 2001-2007, she served as Director of the Bringing Human Rights Home Project, Human Rights Institute, Columbia Law School, and a supervising attorney for the law school's Human Rights Clinic.
A Fresh Focus on the U.S./Mexico Border: Protection of Unaccompanied Children Grounded in Systemic Reforms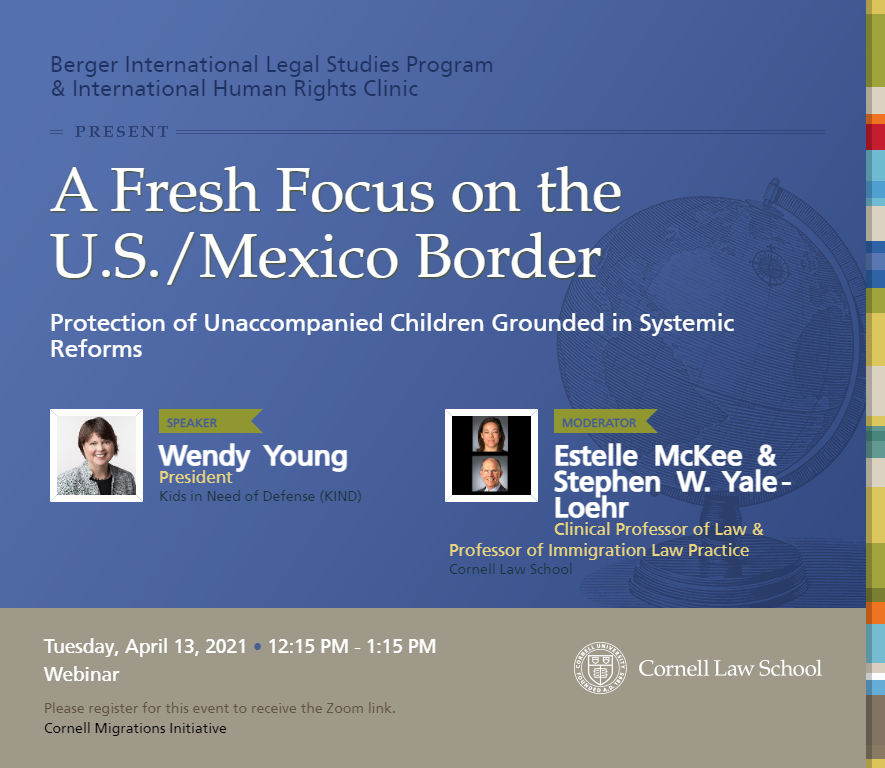 Click here to watch this Webinar on Cornell On Demand!
Speaker: Wendy Young
Date and Time: April 13, 2021 12:15 PM – 1:15 PM
Wendy has led KIND since 2009, and brings extensive immigration policy experience to the organization. Prior to KIND, she served as Chief Counsel on Immigration Policy in the Senate Judiciary Subcommittee on Immigration, Border Security and Refugees for Senator Edward M. Kennedy. She held prior immigration policy positions with organizations such as the United Nations High Commissioner for Refugees, the Women's Refugee Commission, the United States Conference of Catholic Bishops, and the National Council of La Raza. She has also written numerous articles, reports and cutting-edge op-eds on the plight of unaccompanied children. Wendy has received a number of awards and honors for her work on immigration rights including: 2017 Williams College Bicentennial Medal Award; 2016 Keepers of the American Dream Honoree by the National Immigration Forum; Women Inspiring Change 2015 Honoree at Harvard Law School's 2nd Annual International Women's Day Celebration; Foreign Policy's Leading Global Thinker of 2014; Nominated as one of two NGO representatives to participate in Seminar XXI Program on U.S. Foreign Policy by Massachusetts Institute of Technology and National Defense University (2002); Honored by Florida Immigrant Advocacy Center for work on behalf of women and children detainees (2002); Child Advocacy National Certification of Recognition, American Bar Association, in recognition of contributions advancing the welfare of children (2001); Human Rights Award, American Immigration Lawyers Association, in recognition of the work of the Women's Commission for Refugee Women and Children on behalf of women and child asylum seekers (1999). Wendy earned a joint law degree and master's degree in international relations from American University in Washington, DC, and a bachelor's degree from Williams College in Massachusetts.
The Minimum Wage Debate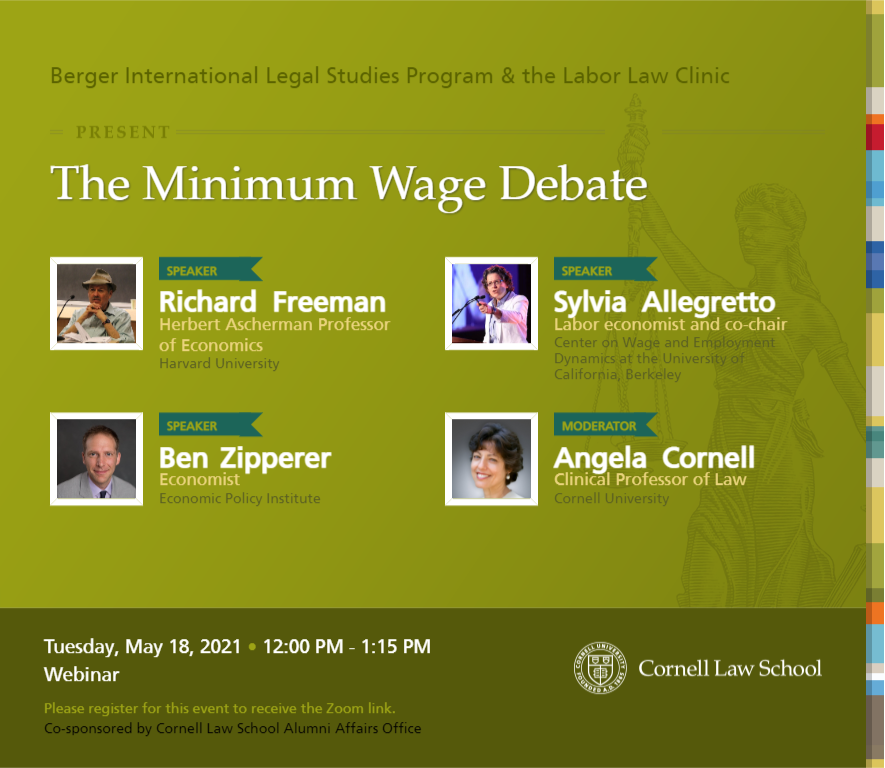 Greetings!
Please join us on Tuesday, May 18th, 2021 from 12 p.m. to 1:15 p.m. for a lively discussion of the federal minimum wage moderated by Cornell University's Professor Angela Cornell and featuring panelists Richard Freeman, Sylvia Allegretto, and Ben Zipperer.
Co-sponsored by the Cornell Law School Alumni Affairs Office.
Register for the event here: https://cornell.zoom.us/webinar/register/WN_5uCPcsrCQxOP3WQaXbOr6A
The federal minimum wage has been at $7.25 since 2009, and it's the longest period in our history without an increase. Not indexed to inflation, the current rate produces the same purchasing power as 40 years ago. Gains in wages have gone to the top tier, while wages for most other American workers have been stagnant. Is it time for a $15.00 an hour minimum wage? Would there be adverse consequences? How have low wages impacted income inequality? Is the current wage contributing to the widening racial gap? Our nationally recognized experts will answer these questions and more.
About the panelists:
Richard Freeman holds the Herbert Ascherman Chair in Economics at Harvard University. He is currently serving as Faculty co-Director of the Labor and Worklife Program at the Harvard Law School, and is Co-Director of the Harvard Center for Green Buildings and Cities.
Sylvia Allegretto is a labor economist and co-chair of the Center on Wage and Employment Dynamics at the University of California, Berkeley. CWED is a research center housed at the Institute for Researcher on Labor and Employment. Dr. Allegretto received her Ph. D. in economics from the University of Colorado, Boulder and worked for several years at the Economic Policy Institute in Washington DC where she is currently a research associate
Ben Zipperer joined the Economic Policy Institute in 2016. His areas of expertise include the minimum wage, inequality, and low-wage labor markets. He has published research in The Quarterly Journal of Economics and the Industrial and Labor Relations Review and has been quoted in outlets such as The New York Times, The Washington Post, Bloomberg, and the BBC.
Speakers for the Fall 2020 Semester
Working on Human Rights in Uncertain Times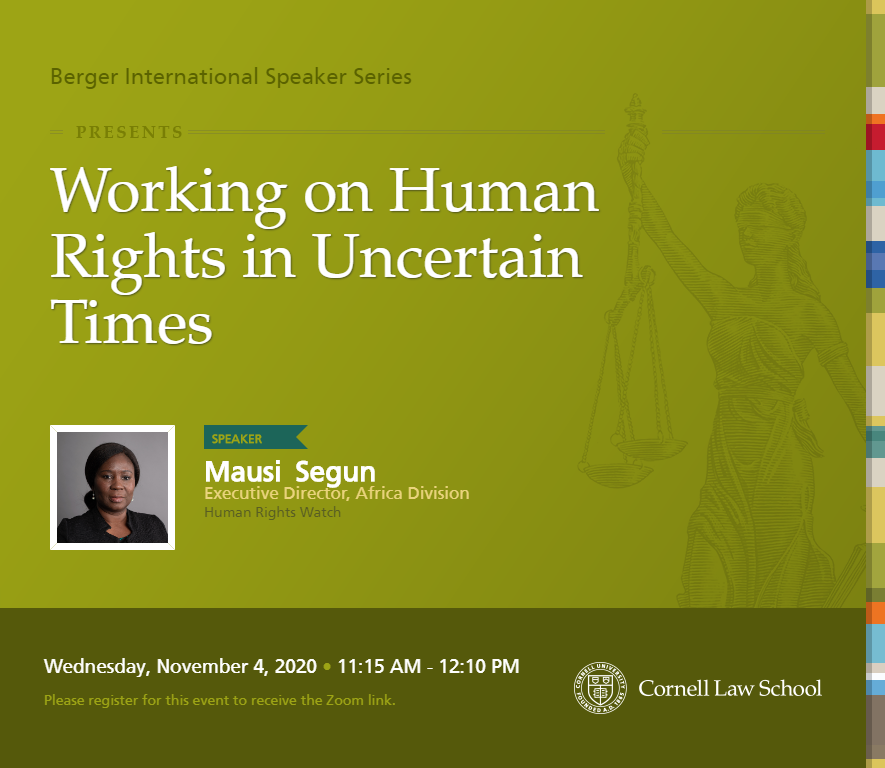 Speaker: Mausi Segun
Date and Time: November 4, 2020 11:15 AM – 12:10 PM
Mausi Segun is the Executive Director, Africa division at Human Rights Watch. With a law degree from Obafemi Awolowo University, Nigeria, and an LLM human rights law from the School of Oriental and African Studies (SOAS), University of London as a British Chevening scholar, Mausi has over 25 years of experience in legal and human rights practice.
She currently leads a team of 33 staff covering 25 countries in Sub-Saharan Africa on human rights issues around terrorism and counterterrorism, conflicts, cycles of communal violence, the humanitarian and refugee crises in Africa, sexual violence against women and girls, repression of journalists, activists, and political opposition as well as on natural resource exploitation and environmental rights.
She has written pieces and opinions for the New York Times, the Guardian and the Independent UK, Sunday Independent SA, the Huffington Post, Washington Post, MSNBC, and Salon. She is often featured and quoted on CNN, the BBC, Al Jazeera, Sky News, SABC, France 24 and other major news media. Mausi had previously worked at Nigeria's Federal Ministry of Justice, and at the Nigerian National Human Rights Commission.
An Asylum and Refugee System in Tatters: Where Do We Go from Here?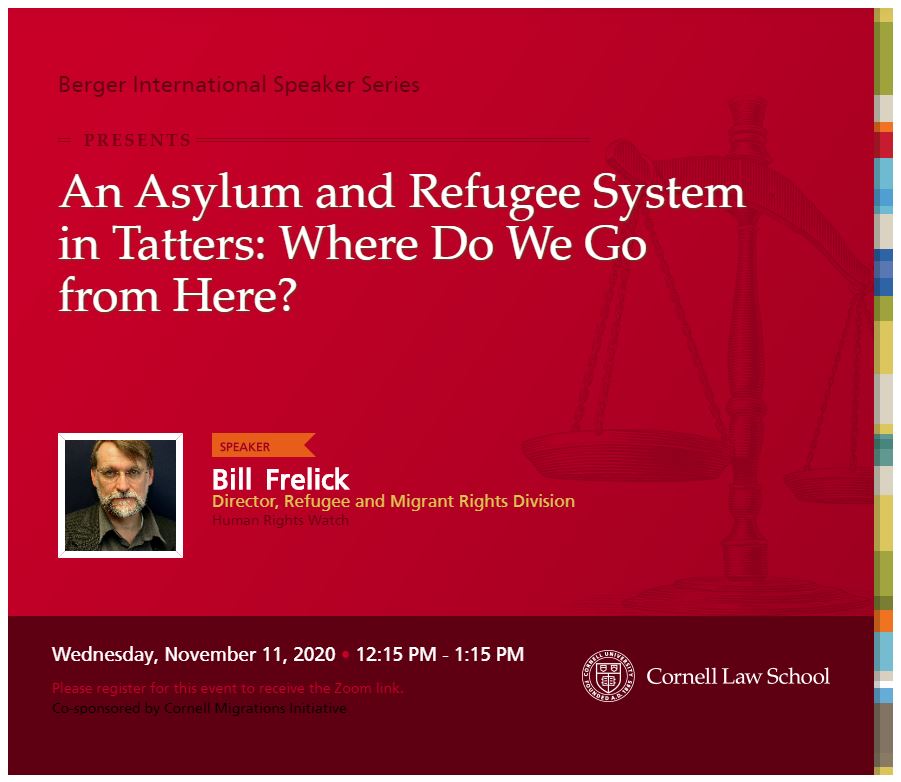 Speaker: Bill Frelick
Date and Time: November 11, 2020 12:15 PM – 1:15 PM
Since 2005, Bill Frelick has served as the Refugee Rights director at Human Rights Watch, through which he monitors, investigates, and documents human rights abuses against refugees, asylum seekers, and internally displaced persons, and advocates for the rights of forcibly displaced persons worldwide. From 2002-2005, Mr. Frelick was the director of Amnesty International USA's Refugee Program. He was also previously the director of the U.S. Committee for Refugees, which he served for 18 years (1984-2002). He has traveled to refugee sites throughout the world and is widely published. He was the editor of USCR's annual World Refugee Survey and monthly Refugee Reports.
• Op-ed Pieces: New York Times; Wall Street Journal; Washington Post; Newsweek, Chicago Tribune; Los Angeles Times; Int'l Herald Tribune; St. Louis Post-Dispatch; Philadelphia Inquirer; Newsday; European Voice; Toronto Globe and Mail; Ottawa Citizen; Miami Herald; San Diego Union-Tribune; Washington Times; Houston Post; Atlanta Constitution; New Statesman; Huffington Post; The Guardian; Dhaka Tribune; Christian Science Monitor
• Academic/Law Journals: Georgetown Immigration Law Journal; Harvard International Review; Journal of Refugee Studies; Cornell International Law Journal; International Journal of Refugee Law; Interpreter Releases; Issue: A Journal of Opinion; Social Education; Migration: A European Journal of International Migration and Ethnic Relations; Immigration Newsletter; Bender's Immigration Bulletin; Forced Migration Review.
• Reports and Issue Papers: "'Bangladesh Is Not My Country' The Plight of Rohingya Refugees from Myanmar," (2018);"Our Homes Are Not for Strangers" Mass Evictions of Syrian Refugees by Lebanese Municipalities (2018); "I Have No Idea Why They Sent Us Back" Jordanian Deportations and Expulsions of Syrian Refugees (2016); Containment Plan: Bulgaria's Pushbacks and Detention of Syrian and Other Asylum Seekers and Migrants (2014), Jordan: Palestinian Refugees, Single Men, and Undocumented Unlawfully Forced Back to Syria (2013), Ad Hoc and Inadequate: Thailand's Treatment of Refugees and Asylum Seekers (2012),Buffeted in the Borderland: The Treatment of Migrants and Asylum Seekers in Ukraine (2010); Pushed Back, Pushed Around: Italy's Forced Return of Boat Migrants and Asylum Seekers, Libya's Mistreatment of Migrants and Asylum Seekers (2009); Stuck in a Revolving Door: Iraqis and Other Asylum Seekers and Migrants at the Greek/Turkish Entrance to the European Union (2008); The Silent Treatment: Fleeing Iraq, Surviving in Jordan (2006); Inside Chechnya: Misery Fear, and Abuse (2001); Reversal of Fortune: Yugoslavia's Refugee Crisis since the Ethnic Albanian Return to Kosovo (2000); The Wall of Denial: Internal Displacement in Turkey (1999); Barriers to Protection: Turkey's Asylum Regulations (1996); Filling the Gap: Temporary Protected Status (1994); Faultlines of Nationality Conflict: Refugees and Displaced Persons from Armenia and Azerbaijan (1994); Last Ditch Options on Bosnia (1993); Yugoslavia Torn Asunder: Lessons for Protecting Refugees from Civil War (1992); Mass Exodus: Iraqi Refugees in Iran (1991); Running the Gauntlet: The Central American Journey Through Mexico (1991); Refugees at Our Border: The U.S. Response to Asylum Seekers (1989); The Back of the Hand: Bias and Restrictionism towards Central American Asylum Seekers in North America (1988).
• Field Work: Albania, Armenia; Azerbaijan/Nagorno-Karabakh; Bangladesh; Bosnia; Bulgaria; Canada; Croatia; Cuba/Guantánamo; Dominican Republic; Greece; Guatemala; Haiti; Honduras; Hungary; India; Iran; Iraq; Italy; Jordan; Kenya; Kuwait; Lebanon; Libya; Macedonia; Malta; Mexico; Montenegro; Myanmar; Nepal; Panama; Poland; Russia/Chechnya; Serbia/Kosovo; Slovakia; Slovenia; Thailand; Turkey; Ukraine; USA (migration detention centers in California, Pennsylvania, Texas, Virginia, and Florida); and Yemen.
Frelick taught in the Middle East from 1979-1983. He was co-coordinator of the Asian Center of Clergy and Laity Concerned 1976-1979. He has a B.A. from Oberlin College, Phi Beta Kappa, and an M.A. from Columbia University.
Berger Current Events Colloquium
The Berger Current Events Colloquium is a panel event on a topic relevant to current events that has some international or comparative focus.
35 Years After Bhopal: Lessons Learned?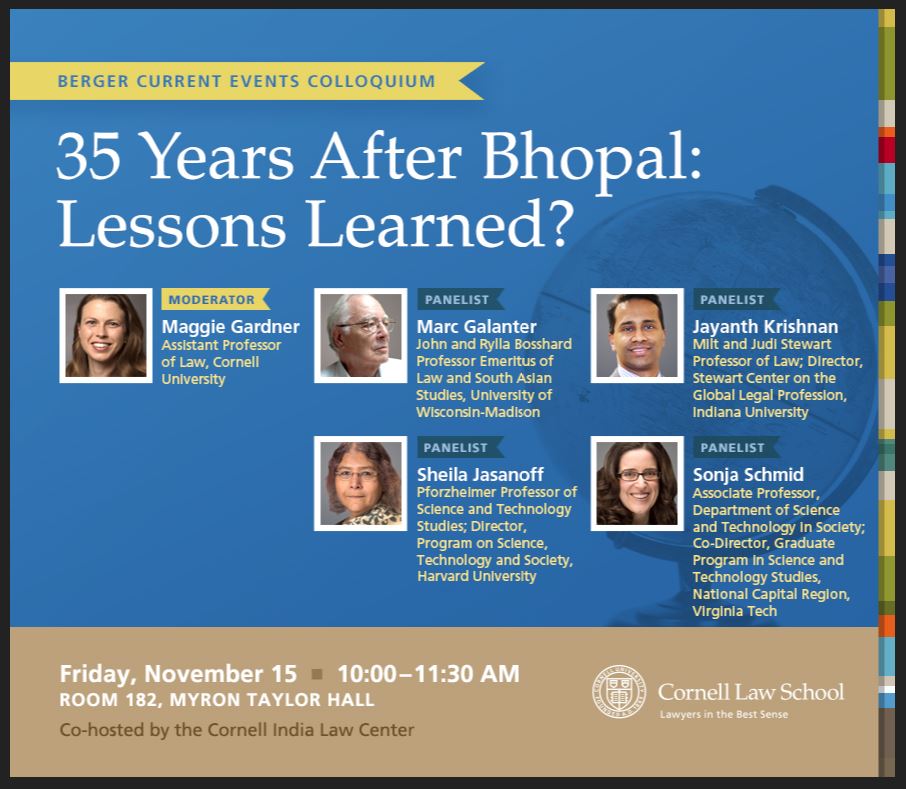 On the night of December 2, 1984, twenty-five tons of a highly lethal gas leaked from the Union Carbine India pesticide plant in Bhopal, India. The scale of the disaster was profound. Thousands of men, women, and children were killed instantly; tens of thousands were seriously injured; and hundreds of thousands continue to suffer from long-term environmental contamination. Efforts to assign liability, compensate victims, and remediate the physical environment stretched over the ensuing decades, yet have proved largely futile.
Have we learned anything from Bhopal? This panel discussion, open to the public, will bring together experts in Indian law, transnational law, and risk management to consider Bhopal's legacy. Have we effectively prevented future Bhopals? Are we better equipped to respond to large-scale industrial disasters when they do occur? What more should be done?
Moderator: Maggie Gardner, Assistant Professor of Law, Cornell University
Panelists:
Marc Galanter, John and Rylla Bosshard Professor Emeritus of Law and South Asian Studies, University of Wisconsin‑Madison
Sheila Jasanoff, Pforzheimer Professor of Science and Technology Studies; Director, Program on Science, Technology and Society, Harvard University
Jayanth Krishnan, Milt and Judi Stewart Professor of Law; Director, Stewart Center on the Global Legal Profession, Indiana University
Sonja Schmid, Associate Professor, Department of Science and Technology and Society; Co-Director, Graduate Program in Science and Technology Studies, National Capital Region, Virginia Tech, Northern Virginia Center
Event Date: November 5, 2019
Renewing the New Deal: The Rise of the New Industrial Policy in America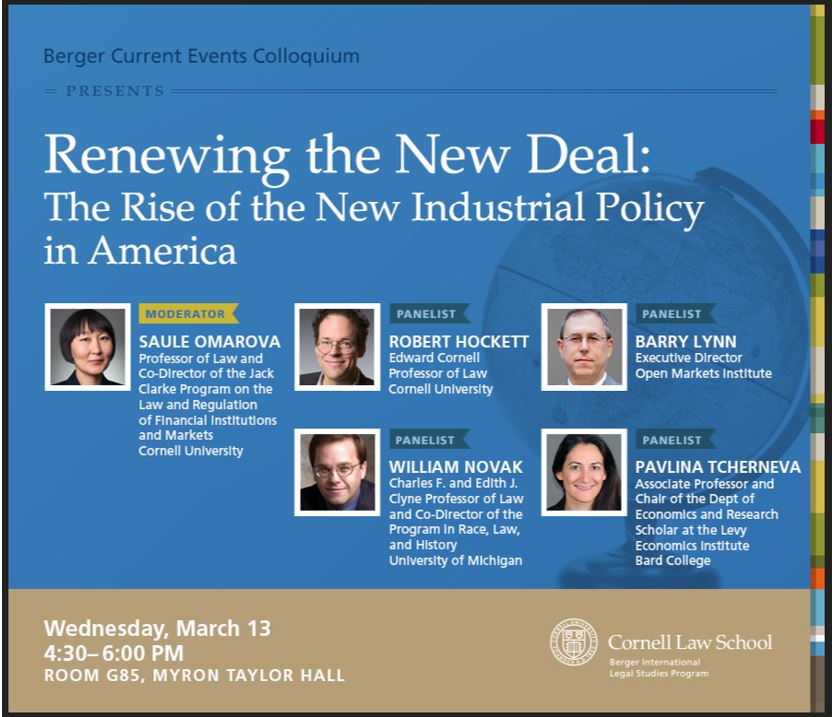 In recent times, the public policy discussion in America has been increasingly turning to the economic, political, and institutional legacy of the New Deal era. Some of this renewed interest is primarily rhetorical in character, as policymakers and ordinary people search for the right vocabulary to express both their present frustration with the decades of rising economic inequality, stagnant wages, erosion of the public safety net, and loss of confidence in the political process, and their hope for a better, more stable and just, future. Nearly a full century after the original New Deal transformed America's economic and political life, we are facing a new set of economic, environmental, and political challenges that require a similarly bold and coordinated response.

What should this bold policy response – or a "New Industrial Policy" – look like? What specific problems would it target, and by what means? How will it help to rebuild the nation's economy and to ensure a better, safer, more productive and more just, future for all Americans? Cornell Law School's Berger Current Events Spring 2019 Colloquium will bring together a small group of prominent academics and policy experts to address these questions. From a variety of perspectives, the panelists will discuss some of the cutting-edge initiatives that are beginning to shape the contours of America's emerging New Industrial Policy: the Green New Deal program, the Federal Job Guarantee proposal, and the rise of the "New Antitrust" movement. The purpose of the program is to share insights and to debate ideas on how best to move the broader agenda of socio-economic reform forward.
Moderator: Saule Omarova, Professor of Law and Co-Director of the Jack Clarke Program on the Law and Regulation of Financial Institutions and Markets, Cornell University
Panelists:
Robert Hockett, Edward Cornell Professor of Law, Cornell University
Barry Lynn, Executive Director, Open Markets Institute
William Novak, Charles F. and Edith J. Clyne Professor of Law and Co-Director of the Program in Race, Law, and History, University of Michigan
Pavlina Tcherneva, Associate Professor and Chair of the Dept of Economics and Research Scholar at the Levy Economics Institute, Bard College
Event Date: March 13, 2019
Climate Change Symposium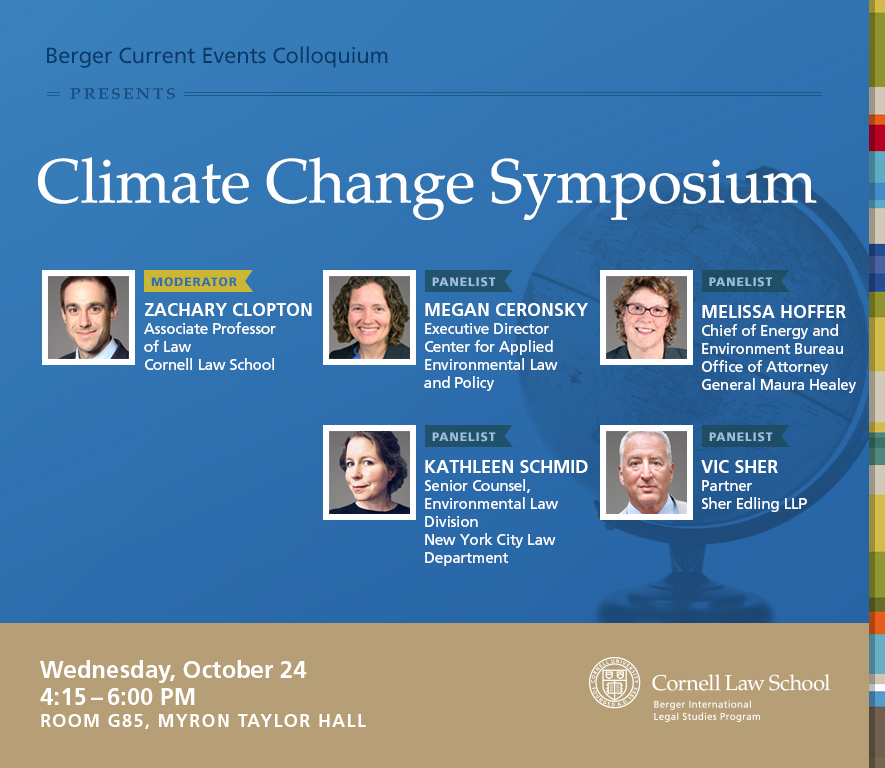 Climate change is a pressing problem of global importance. Responding to it requires the concerted efforts of scientists, engineers, policymakers, and citizens. Lawyers, too, have been deeply involved in the efforts to address global climate change. Cases have been filed in local, state, federal, foreign, international, and tribal courts. Plaintiffs have been individuals, NGOs, cities, states, tribes, and even children. Legal theories have been regulatory, statutory, constitutional, common law, and international law. What should we make of this tapestry of litigation? Does it matter who sues for what in which court? How does litigation relate to policymaking and to public opinion? This symposium hopes to consider these questions with input from lawyers working on climate litigation across its wide range of forms.
Moderator: Zachary Clopton, Associate Professor of Law, Cornell University
Panelists:
Megan Ceronsky, Executive Director, Center for Applied Environmental Law and Policy
Melissa Hoffer, Chief of Energy and Environment Bureau, Office of Attorney General Maura Healey, State of Massachusetts
Kathleen Schmid, Senior Counsel, Environmental Law Division, New York City Law Department
Vic Sher, Partner, Sher Edling LLP
Event Date: October 24, 2018