Events of Note
2022 CELS-Asia
December 12-14, 2022
Hosted by Academia Sinica
Taipei, Taiwan
More information here
Submit here
Endogenous Rules, Risk & Legal Institutions Workshop
Northwestern Main and Advanced Causal Inference Workshops
August 8-12, 2022 (Main Workshop)
August 15-17, 2022 (Advanced Workshop)
Details here
2022 CELS-Europe
Date TBA
University of Oslo
Hosted by the Forum for Law and Social Science, University of Oslo
Paper submission deadline TBA
News & Announcements
Meenakshi Balakrishna, Kenneth C. Wilbur, "Do Firearm Markets Comply with Firearm Restrictions? How the Massachusetts Assault Weapons Ban Enforcement Notice Changed Registered Firearm Sales" https://onlinelibrary.wiley.com/doi/10.1111/jels.12307 JELS 19:1 The National Interest
Yair Listokin, Raymond Noonan, "Measuring Lawyer Well-Being Systematically: Evidence from the National Health Interview Survey" JELS 18:1 Reuters
John Donohue, Abhay Aneja, and Kyle Weber, "Right-to-Carry Laws and Violent Crime: A Comprehensive Assessment Using Panel Data and a State-Level Synthetic Control Analysis" JELS 16:2 Gotham News, Buzz Feed News, Washington Post, Seattle Times
Jean Braucher, Dov Cohen, Robert M. Lawless, "Race, Attorney Influence, and Bankruptcy Chapter Choice" in Forbes
Best Law and Courts American Political Science Association Journal Article
Legal Uniformity in American Courts
Deborah Beim and Kelly Rader
Journal Rankings: Google Scholar and Washington and Lee comparison may be found here. ABDC 2019 Journal Quality List A* ranking may be found here.
Anu Bradford, Adam Chilton, Katerina Linos, and Alexander Weaver, "The Global Dominance of European Competition Law Over American Antitrust Law" in Reuters
Conferences
Conference on Empirical Legal Studies (CELS), University of Virginia School of Law, November 4-5, 2022
More information about 2022 CELS University of Virginia here.
2022 CELS Toronto March 18-19, 2022 is now complete. More information and the program may be found on our "CELS Conferences" page.
ELS Blog
Journal of Empirical Legal Studies
Current Issue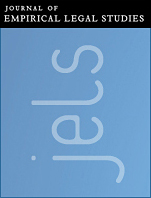 September 2022