Welcome! Below you will find resources and information for your week on campus. If you have questions that aren't answered below, please send an email to me with your question at ldm93@cornell.edu and I will add it to the guide.
---
ACTION NEEDED: Please fill out the Graduation survey
General Information
Hotel blocks
These blocks are reserved with a start date of Thursday, August 3, 2023 and end date of Sunday, August 13, 2023, but of course you are welcome to book any timeframe within that parameter.
*Please note the 'last day to book' dates!
Ithaca Marriott Downtown on the Commons

Last Day to Book: Monday, July 3, 2023
Special group rate: 209 USD per night
48 hour cancellation policy

Canopy by Hilton Ithaca Downtown

Last Day to Book: July 5, 2023
Special group rate: $199
48 hour cancellation policy
Schedule
Click here to view the schedule for the week.
Please note that this is subject to change. Any changes will be made directly in the above online document.
Maps
Capstone Presentations
Professor Magalhaes will be supplying a schedule of your presentation slots.
Events
Dress code for events is business casual.
Plus ones are welcome to attend the social events – you'll be able to report your plus one to me in the survey.
Saturday the 5th: MSLS Conference Presentations

There will be two faculty-led academic seminars on Saturday focused on issues relevant to MSLS students.

Sunday the 6th: MSLS Mixer

An event intended to give you the opportunity to meet and network with MSLS alumni, the new cohort, MSLS and Cornell Law School Faculty, and MSLS staff.

Friday the 11th:

Our farewell dinner celebrating your achievements. More details forthcoming.
Activities (all optional)
Friday the 4th:

Law School tour

Please join us for a tour of Cornell Law School, a picturesque assemblage of buildings in the collegiate Gothic style with approximately 90 years of history within its walls.

Guided tour of the Johnson museum

Guided tour of the Johnson Museum of Art: Today, the Museum's permanent collection numbers 40,000 works, spanning six millennia and encompassing art from most world cultures. Among the strengths of the collection are the holdings of Asian art; more than 23,000 prints, drawings, and photographs ranging from the fifteenth century to the present; modern and contemporary painting and sculpture; European art from ancient times to the present; African sculpture and textiles; and pre-Columbian sculpture and ceramics.

Saturday the 5th:

Cornell Campus Tour

Professor Magalhaes and Dean Saleet will lead you on a tour of campus. The tour will conclude at the Cornell Dairy Bar, where you can get a scoop of ice cream on us.
Meals
Breakfast and lunch will be served every day at the Law School from Monday – Friday.

Breakfast will be served from 8 a.m. – 9 a.m.
Lunch will be served from 12:00 p.m. – 1:00 p.m.

Dinner will be provided at the Law School on Monday – Thursday at 5 p.m.

We have left Wednesday afternoon open for you to explore and choose your own dining location – Ithaca is full of incredible food!

Please see the schedule for the location of each meal.
Ithaca Guide for Visitors
Click here to see a guide of all the incredible activities Ithaca and Cornell has to offer!
Transportation and Parking
As a campus-bound student for a couple days, you will become acquainted with our most reviled foe, the campus' dramatic and constantly changing elevations. All of your trips will be both uphill and downhill and then uphill and downhill again. This is inescapable, but here is what I would recommend to minimize the trouble.
Hotel shuttles: Nearly all downtown hotels have a shuttle up to the college. Some run on a schedule and some need to be arranged beforehand, so please talk to a receptionist about using it.
Public Bus System: TCAT

Otherwise the easiest and cheapest way to get to the Law School is on the TCAT bus system.

Here is a link to the bus schedules.
Google Maps is very accurately aligned with TCAT and I would recommend it as the sole resource for bus use – when in doubt, enter your destination and location here to find what bus you should take.

Click the blue 'Directions' icon on the search bar on the upper left corner of the screen.
When the navigation bar opens, click the 'Transit' icon (represented by a metro symbol) and enter your starting point in the top field and your destination in the bottom field.
Google Maps will provide you with available routes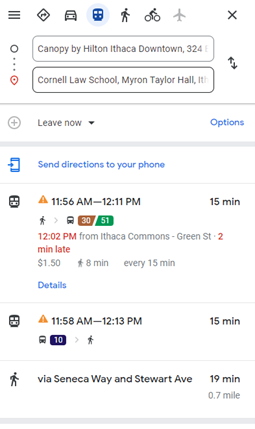 TCAT con't

Fees:

For students and staff: TCAT bus use is free. Simply scan your student or staff ID card upon boarding the bus.

For all others, the fees are as follows for a single ride:

Adults: $1.50
Youth (6-17), Seniors (60+), Persons with Disabilities: $.75

Family members accompanying you might consider getting a length-based TCARD, which can be purchased online at the TCAT store.

1 Day Pass = $3.00
2-Day Pass = $6.00
5-Day Pass = $15.00
Weekly Pass = $17.50

Personal Car

Parking –

Click here for general Visitor Parking information.
If you have any questions about parking at Cornell, the Transportation Services Office has kindly offered that you can either give them a call, email them, or stop by the office if you have any questions. Their contact info is:

116 Maple Avenue
Ithaca NY 14850-4902
t: 607-255-4600
f: 607-255-0257

The Law School Parking Lots

The lot directly adjacent to Myron Taylor Hall (marked with a star to the left of MTH on this map – the Law School is on the bottom left cluster of this map that's labeled WD) is restricted to permit-holders until 5 p.m. on the weekdays and won't be an option during the day on Thursday and Friday (this is the case for all surrounding Cornell lots that aren't pay-to-park). However, you can use it after 5 pm when we have dinner and on the weekend.

Parking Garages

The closest parking garage is the Ithaca-owned Dryden Road Garage in Collegetown.

Fee is typically $1 an hour.
Its about a 5 minute walk to the Law School.
*Because it's the easiest and shortest walk to the Law School for relatively cheap, I would recommend this parking location over any others during the day on weekdays.

ParkMobile Lots

Cornell utilizes the ParkMobile app for paid parking lots all across campus.
Click here to view Cornell's page about ParkMobile use.
Click here to view the map of ParkMobile lots and their prices.
The lots closest to the Law School are P4102 and P4123, both lots are an uphill walk to the Law School of about 10 minutes but if you're willing to wait/coordinate you can take a bus up the hill at the nearby stops.

Cabs and Rideshares – the most expensive option

Both Uber and Lyft operate in Ithaca. During the summer, ride-share isn't reliable because the population of the city significantly decreases while students are away for the summer. Expect a long wait and potentially no service, and super inflated prices for making bookings in advance.
Cab services are offered by:

Collegetown Cab:

(607)-588-8888
You can book online. They are a great option if you book in advance (which doesn't inflate the prices, unlike ride-shares) – last minute requests could have waits up to two hours.
COVID-19 Protocol and Restrictions
We will be following Cornell's campus-wide COVID-19 protocol and safety standards, which has the potential to change at any time. The most up-to-date information will always be found at this link.
Students are of course welcome to mask up and social distance by personal choice even if it is not a requirement.
---
Graduation
Ceremony
The ceremony will take place from 10 am – 12 pm in the Courtyard of the Law School under a tent. The graduation stage and all seating will be under the tent.
There will be a plethora of bottled water available to students and guests to keep everyone hydrated – hopefully the weather agrees with us!
We will be issuing an email with the finer details – that is, providing seating charts, the check-in process, walking routes to the stage and back to your seats, and a general program – prior to the start of the week. This will likely get issued later, at the end of July, as there is a high likelihood of many small changes up until the ceremony and we would like to avoid any confusion.
Post-ceremony Reception
A post-ceremony reception will follow and will take place in the Gallery/Commons/Courtyard.
Graduation Regalia
Regalia will be available for purchase soon. The distributors expect to have the regalia website up and running by May and I will send you the link once its up. MSLS students will be wearing Masters of Science robes.
Graduation Parking
The lot directly adjacent to Myron Taylor Hall (marked with a star to the left of MTH on this map – the Law School is on the bottom left cluster of this map that's labeled WD) is free on weekends and can be used for the ceremony.
Wheelchair Accessibility
Individuals with wheelchairs can access the Courtyard by entering through the Myron Taylor Hall main entrance on College Ave. Please see this map for a visual guide.

(Please note that this is the only entrance where a wheelchair can easily get to the Courtyard.)

Instructions:

There is a bus lane in front of Anabel Taylor Hall where you can load and unload.

Enter through the main entrance of Myron Taylor Hall.
Inside the entrance hall (before the long hallway), turn left to get to the elevator.
Select Floor #1 button (Commons).
You can enter the Courtyard through the doors in the Commons (exit the elevator, turn left to enter the Commons, doors are on the right) or the Gallery (exit elevator, go straight, doors will be to the left before the Gallery begins).
Portraits
We will have a portrait photographer at the Law School on the day of graduation to take your portraits. You can sign up for a time slot in the graduation survey. You will have about 3 minutes with the photographer to take a solo portrait as well as a portrait with any family or friends who are present.