Welcome! Below you will find resources and information for your week on campus. If you have questions that aren't answered below, please send an email to me with your question at ldm93@cornell.edu and I will add it to the guide.
General Information
Schedule
Click here to view the schedule for the week.
Please note that this is subject to change. Any changes will be made directly in the above online document.
Maps
Click here to view the Law School map.
Events
There are two events throughout the week –

Welcome Mixer (Sunday, 7/31/2022 at 5 p.m. at the Law School)

The theme of the mixer is 'Welcome to the Finger Lakes' and our caterers will be creating a menu that reflects Cornell's beautiful location in the Finger Lakes region. We will also have a wine expert at the bar to provide information about the night's wine offerings, all from our incredible local wineries.
We are not able to accommodate extra guests for this event (students only).

Farewell Dinner (Friday, 8/05/2022 at 6 p.m.)

Our farewell dinner will be provided by the chefs at Ginny Lee Café, located on the grounds of the beautiful Wagner Vineyards on Seneca Lake.
We will be taking a 50-minute bus ride to the location from the Law School.
You are welcome to bring a plus one to this event.

Dress code for the events is business casual.
Activities (all optional)
Monday: Law School tour

Please join us for a tour of Cornell Law School, a picturesque assemblage of buildings in the collegiate Gothic style with approximately 90 years of history within its walls.

Tuesday: Cornell Campus Tour

Professor Magalhaes and Dean Saleet will lead you on a tour of campus. The tour will conclude at the Cornell Dairy Bar, where you can get a scoop of ice cream on us.

Thursday: the Johnson Museum of Art or Cornell Botanical Gardens

Guided tour of the Johnson Museum of Art: Today, the Museum's permanent collection numbers 40,000 works, spanning six millennia and encompassing art from most world cultures. Among the strengths of the collection are the holdings of Asian art; more than 23,000 prints, drawings, and photographs ranging from the fifteenth century to the present; modern and contemporary painting and sculpture; European art from ancient times to the present; African sculpture and textiles; and pre-Columbian sculpture and ceramics.
Guided tour of the Cornell Botanic Gardens: You will explore our gardens and landscapes with a guide. Knowledgeable volunteer Garden Guide and staff will provide a personalized, close-up look at our diverse and beautiful plant collections.
Meals
Breakfast and lunch will be served every day at the Law School from Monday – Friday.

Breakfast will be served from 7:30 a.m. – 8:30 a.m.

Lunch will be served from 12:45 p.m. – 2 p.m.

Dinner will be provided at the Law School on Monday, Tuesday, and Thursday at 6 p.m.

We have left Wednesday afternoon open for you to explore and choose your own dining location – Ithaca is full of incredible food!

Please see the schedule for the location of each meal.
Ithaca Guide for Visitors
Click here to see a guide of all the incredible activities Ithaca and Cornell has to offer!
Transportation and Parking
As a campus-bound student for one week, you will become acquainted with our most reviled foe, the campus' dramatic and constantly changing elevations. All of your trips will be both uphill and downhill and then uphill and downhill again. This is inescapable, but here is what I would recommend to minimize the trouble.
Public Bus System: TCAT

The easiest and cheapest way to get to the Law School is on the TCAT bus system.

Here is a link to this summer's bus schedules.

Google Maps is very accurately aligned with TCAT – when in doubt, enter your destination and location here to find what bus you should take.

Click the blue 'Directions' icon on the search bar on the upper left corner of the screen.
When the navigation bar opens, click the 'Transit' icon (represented by a metro symbol) and enter your starting point in the top field and your destination in the bottom field.
Google Maps will provide you with available routes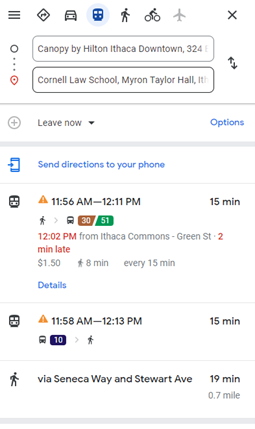 TCAT con't

Fees:

For students and staff: TCAT bus use is free. Simply scan your student or staff ID card upon boarding the bus.

For all others, the fees are as follows for a single ride:

Youth (6-17), Seniors (60+), Persons with Disabilities: $.75

Family members accompanying you might consider getting a length-based TCARD, which can be purchased online at the TCAT store.

Personal Car

Parking –

Click here for general Visitor Parking information.

If you have any questions about parking at Cornell, the Transportation Services Office has kindly offered that you can either give them a call, email them, or stop by the office if you have any questions. Their contact info is:

The Law School Parking Lots

The lot directly adjacent to Myron Taylor Hall (P Lot on this map – the Law School is on the bottom left cluster of this map) is restricted to permit-holders at all times and will not be an option during the week. It is also undergoing construction.

The HH lot (per the above linked map) that is to the left of the Myron Taylor Hall P Lot is restricted during business hours but can be parked in for free from 5pm – 10pm on Weekdays and all day on the Weekend.

This would be a good option for days that you return to the school for dinner.

The stairs up to the Law School are closed but you can follow the path next to the parking lot up.

Parking Garages

The closest parking garage is the Ithaca-owned Dryden Road Garage in Collegetown.

Fee is typically $1 an hour.

Its about a 5 minute walk to the Law School.  

*Because it's the easiest and shortest walk to the Law School for relatively cheap, I would recommend this parking location over all others.

ParkMobile Lots

Cornell utilizes the ParkMobile app for paid parking lots all across campus.

Click here to view the map of ParkMobile lots and their prices.

The lots closest to the Law School are P4102 and P4123, both lots are an uphill walk to the Law School of about 10 minutes but if you're willing to wait/coordinate you can take a bus up the hill at the nearby stops.

Cabs and Rideshares – the most expensive option

Both Uber and Lyft operate in Ithaca.

Cab services are offered by:
COVID-19 Protocol and Restrictions
We will be following Cornell's campus-wide COVID-19 protocol and safety standards, which has the potential to change at any time. The most up-to-date information will always be found at this link.
Students are of course welcome to mask up and social distance by personal choice even if it is not a requirement.