Applying for federal clerkships? If so, your first stop is OSCAR, the "on-line system for clerkship application and review." Federal judges use OSCAR in a variety of ways to facilitate the clerkship-application process:
1. Some judges require applicants to apply through OSCAR itself. You upload your application materials, your recommenders upload their letters, and the materials are electronically sent to the judge. This process is fairly straightforward and OSCAR has resources on their site to help you with this process. When a judge has positions open in OSCAR and is accepting applications via OSCAR, it will look like this:
2. Other judges use OSCAR as a communication tool, but they don't accept applications through the system. By reviewing a judge's information tab and past clerkship postings, you can learn a great deal about the judge's hiring practices and preferences. While these judges do not accept applications through OSCAR, they do have active accounts. When you search through the judges on OSCAR, you'll see these judges' records displayed like this: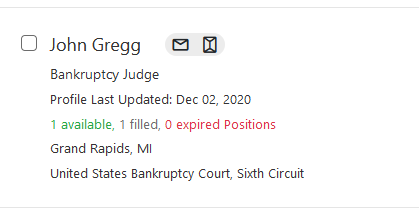 Here you can see that the judge has an available position.  Clicking on the judge's name will allow you to access the position information. The envelope icon lets you know that you can only apply via email application. The vertical manila envelope icon denotes that the judge accepts applications via paper application.
3. Some judges doesn't use OSCAR at all. You'll notice that these judges are clearly identified as non-OSCAR participants: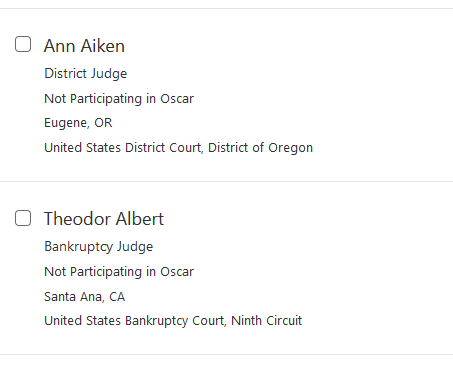 With the first type of judge, it's very easy to get all the information you need, and to apply, directly through OSCAR. With the second type, applying is a bit more difficult, but you'll often find most of the information you need right on OSCAR. The third type presents many more challenges.
To maximize the OSCAR system, we suggest the following approach:
1.  Use the More Filters button to find all of the judges in your preferred jurisdiction(s). Don't just look for open positions, but rather generate a list of every judge in your area of interest.
 2.  Review each judge's entry, paying attention to the last time the judge modified his/her profile.
3. Where information is current, read carefully and follow directions.
4. If the judge does not use OSCAR or her/his profile is out of date, you'll need to research further. So, what do you do?
Going beyond OSCAR:
1. Visit courts' webpages, as some judges post their clerkship information there. E.g., http://www.nysd.uscourts.gov/lawclerks.
2. Review Symplicity's clerkship module and read clerkship interview feedback forms written by past CLS clerkship applicants.
3. Call judges' chambers. If judges' phone numbers are not readily available on their websites, visit the Leadership Connect, an on-line directory database to which Cornell subscribes. Please only call judges as a last resort when you have exhausted all other ways of gathering information. Prepare a script for your calls so that they will be efficient and professional. Read our advice on making calls to judges' chambers, here.

We have found that those applicants who do more than simply apply for open positions posted to OSCAR are the most successful, so it really is worth your time to squeeze as much as you can out of OSCAR, and then go beyond OSCAR to learn the details of judges' hiring preferences. As always, when in doubt, don't hesitate to get in touch!